"Every great tragedy forms a fertile soil in which a great recovery can take root and blossom…but only if you plant the seeds." — Steve Maraboli
You've heard it many times before.
Everyone on the planet claims that they have the silver bullet. Regardless of the subject matter, they absolutely claim that the silver bullet lies within their product or service.
Let's stop this nonsense immediately.
The silver bullet does not lie within the product or service. Rather, the silver bullet lies within each and every one of us.
The silver bullet lies within you.
Yes!
You!
However, to access the silver bullet one must cut very deep into the core of their human personality in order to realize their potential.
Ready or not?
Just go for it, as present circumstances will never, ever be ideal. They will only be ideal when you move towards your goal with action. There is no such thing as luck.
There is no silver bullet.
Be prepared and be ready.
The great Zig Ziglar said it many times. "Success occurs when opportunity meets preparation."
So, what's in your toolbox?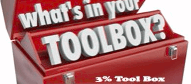 Any great books, videos, MP3, CD, Workbooks, Manuals, seminars, workshops, scripts, apps, Ted Talks etc.?
If you have any of the above and use them on a daily basis, the lower layer will always be filled with $$$$$$$. Invest in yourself every single day by reading, listening, speaking, mentoring and studying whatever it is that you love to do.
Do it as if you can't breathe if you don't do it.
The payoff is huge.
When you are ready, the right teacher will appear as the universe understands what you need and when you need it but you must be aware.
When are you ready?
When you want more. When you know you have a burning desire. When you know you want to learn as much as you can in order to continue growing until your last breath.
I love what Darren Hardy's dad, Jerry Hardy said, "You can't pull out of the game; unless you're showing bone."
Staying in the game is hard at times. Those that do win big!
Mark Twain said it simply, "The two most important days in your life are the day you are born and the day you find out why."
It's a big beautiful world.
Use your talents wisely and don't play it safe ever. Ignite a burning desire for success within that once you see results it becomes an addiction.
GET ADDICTED TO YOUR SUCCESS.
ONCE ADDICTED, NO ONE WILL EVER HAVE TO TELL YOU TO GET ON WITH IT.
GUARANTEED!
So get addicted to your success.
This is absolutely guaranteed as the burning desire; the silver bullet within you will torpedo you towards unimaginable heights never before achieved.
Get ready for the ride of your life.
You don't have to convince the planet. You only have to convince yourself that you can be, do or have anything that you want in this lifetime.
Create your own movie and live it full throttle.
Don't listen to the news, your neighbor, your relatives, or anyone else that thinks that they have your best interests at heart.
Your best interests lie within you. Don't look anywhere outside of you.
Look inside as the silver bullet lives within you.
Get addicted to your success.
1 ON 1 COACHING
Carpe Momentum
Mental Toughness For Life
Copyright 2020